Hello again from The French Hens Nest.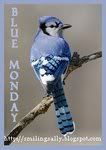 Each Spr

ing

we look forward to the house finch

family

that build

s

their nest in a hanging basket on our front porch. Last year I got them up kind of late or the bir

ds

came early, anyway they didn't set up housek

eeping there and we were so disappointed.
This year my husband called me at work to say the birdies were back and checking our out porch. It was in early March! Of course I hadn't hung flowers by then! Around the first of April I went to Lowes and bought two beautiful hanging baskets. I used to pot up my own then wait for them to grow in. I am too impatient to do that now. I will let someone else make the hanging bas

kets for the birds!
A

nyway, here it is the end of April and they have not come back

!
We are di

sappointed but look what we have instead....
A Robin family moved into our dwarf magnolia tree! Aren't they the perfect color blue?

Aren't they beautiful? Isn't God Good?
Hope you enjo

yed seeing them.