Hello Again From The French Hen's Nest,
I believe that I have finished decorating my new dining room. It's kind of an awkward space, so I've hung pictures, removed pictures, tried other pictures, etc..... For now I'm comfortable with the design. When first built in the 1880's the room was probably used as the reception room, and if I had another bedroom, I would use it for the same purpose.
I am going to share a few photos of the dining room, and also of the beautiful snow that will be staying for a while. On Monday it snowed about 10 inches, and though beautiful, creates havoc for parking in the city.
This was gold, it looks better painted white

Front door

Cozy corner

View from my back door



View from my kitchen window


Hope that wherever you are that you are warm. Thank you so much for stopping by.
Jeannie
Wednesday, January 21, 2015
Hello Again From The French Hen's Nest,
It has been a while since I've posted anything. I recently moved to my new home in Fredericksburg, Virginia, which was built in the 1800's. Fredericksburg is located about an hour south of Washington, DC, and about an hour north of Richmond, VA. This is an area steeped in history. The farm where George Washington grew up is near, and the home that he bought for his mother is just a few blocks away. It's also the site of many civil war battles.
The old town area is lovely and located on the Rappahanock River. I'm looking forward to exploring the area more. And as I do, I will share it with you.
It has taken me a while to unpack everything and find the right spot for it, but I've finally (almost) finished, with the help of my nieces who came from North Carolina to help me.
I love the charm of this old home, ten foot ceilings, ten inch moldings, and three fireplaces.
Today I will share some photos of my living area.
The moldings are so pretty I didn't want to cover them
Door moldings
10 inch moldings
If you have followed our blog this will be familiar
Until I find the right coffee table, I'm using two end tables
I always use my shells when decorating, part of growing up near the ocean
Blue and white goes wherever I go, and in every room
Thank you so much for the visit. I've really missed all of my blogger friends. Please join me next time to view my dining room. Have a wonderful week.
Sharing with some of these great parties...

Monday, November 24, 2014
Hello again from The French Hen's Nest

The Nest is a buzz of Christmas activity! I want to show you my 201

2

fireplace mantle decorations.
I wanted to do things differently this year than in years past. I picked up the glass domes (cloches?) from Goodwill during the year. They were the domes over cheap

anniversary

clocks. I paid about $3.00 for each. Inside I

have place little bottle brush trees with Epsom salts for snow.
My favorite things on the mantle are the two artificial amaryllis I have centered in front of the blue

transferware

plates. I picked these up at Belk Dept Store last week for

50% off- $8.00 each!
The silver candlesticks I also bought during the year at Goodwill for $4.00 each. They were black when I bought them but I knew they

were

shiny underneath.
I completely changed the wreath from last year after seeing the beautiful ornament wreath

s

on so many blogs. The wreath I originally hung had gold fruit and a gold bow but

y

ou could hardly see it against the gold framed mirror. I too

k

it down and stripped it and added the ornaments and

the gold bow.
I hung the wreath over the mirror but it didn't look right so I removed the mirror.

Then I realized I l

ike the mirror alone without the wreath so I took the wreath down and re-hung the mirror.
My garland is artificial and I have twisted two together to make it thicker. I used the trimmings from the bottom of our

Christmas

tree and other greenery from the yard to tuck in here and there for added realism and scent. I have white miniature light

s

running through the garland and it is very beautiful

lit up after dark.
Just wanted to show you some acorns I painted gold and silver and am displaying in silver candy dishes on my coffee table. Aren't they pretty?
Well, that is my mantle and I am pleased with it for now.

I never leave things alone in the weeks before Christmas, do you?
I would love to hear what you think about my Christmas mantle.
Thank you for visiting the French Hens

and have a beautiful day!
Simple and Sweet Fridays @
Rooted in Thyme
Show and Tell Friday @
Romantic Home
Inspiration Friday @
At The Pickett Fence
Home Sweet Home @
The Charm of Home
Feathered Nest Friday @
French Country Cottage
Frugal Friday @
The Shabby Nest
What have you Redone @
Redoux Interiors
Shabbilicious Friday @
Shabby Art Boutique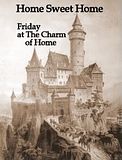 Monday, October 27, 2014


Hello Again from The French Hen's Nest
I thought I'd post it again, since Halloween is just around the corner.

Hope that you enjoy it, and maybe get an idea or two.
During one of my walks this weekend, I came across some fantastically decorated homes. Thought I would share them with you.
Blackbirds everywhere!
I love the colored pictures in the window